Mischief anyone?
Below are links to some of my favorite sights. I've stuck with the format done by the auto-site builder because it's faster/easier just now. This may change as time permits.

Anyway, if you have a few minutes, click around and see what tickles your fancy.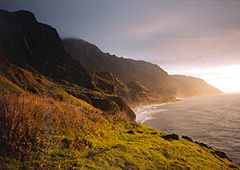 Isn't the above picture cool? Isn't it nifty? Wish I knew where it was from... It is another one that just came with the defualt web page, so I'm going with it. :-)
Search Engines
AltaVista You know us as the Internet's original search engine.
Lycos One of the most visited hubs on the Internet reaching one out of every two web users.
Yahoo! With over half a million sites divided into more than 25,000 categories, Yahoo! is both browseable and searchable.
InfoSeek GO Network is a new brand that brings together the very best of the Internet in one, easy to use place.
Favorite Sites
Rough Cut My friend Johanna's site. Lots of nifty stuff here - including an interesting journal. Take a look!
Old Faithful Webcam Need a vacation but don't have the time or money to go anywhere? Click here and watch Old Faithful in Yellowstone Park.
National Park Service Website Planning a vacation? Need to get away from it all? Want to see national wonders & historical sites? Visit the National Park Service's website and find a park near you.
The New York Times All the news that's fit to print! Need to catch up on daily events? Try the New York Times.
The London Times A slightly different spin. Wonder what those across the pond think about events? Sometimes thier view can be quite...interesting.
Butterfly's Second Landing Interesting little site. Doesn't look like it's updated too much anymore, but some fun stuff.
Good Clean Funny Laugh Archive Need a good laugh? This site has a bunch of good laughs, giggles and groaners.
Faith Tabernacle This is my church's website. It's here because I'm in charge of it & making sure it's updated. So, it's here because I needed a little ego trip. (at least I'm honest about it!) ;-)